STAN SLATER
For all practical purposes Stan is an unlikely artist. He was a technical trainer for 17 years until he got hit with the economic readjustment in February 2009. People often have tried to put him in the "geek" box, he never quite fit. Instead they would commonly call Stan an "artistic geek."
Stan is a life-time musician (guitar player/vocalist) and an avid photographer. Combining his skills of technical perfection with a true appreciation of natural beauty, Stan found his passion in wood.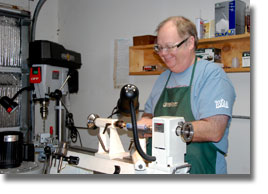 When Stan was eight he wandered into his Grandfather's woodworking garage. He was fascinated and he asked his parents if he could have the tools when he grandfather didn't need them anymore. Unfortunately, the request by the eight year old wasn't taken too seriously and Stan had to wait until he was a teenager and working in a lumber yard to be around the smell of fresh cut wood again. To Stan, nothing smells better (except perhaps fine dark chocolate).
After the lumber yard, Stan started on his career path which somehow excluded wood completely. He found himself working with high tech tools instead of the small ones that turn wood. Stan was reminded of his passion shortly before he lost his job when he visited a relative who makes fine acoustic guitars and also does wood turning in his shop. He fell in love again with the art he had not witnessed since he was a child. This time he didn't have to ask for the tools. He purchased his own and now enthusiastically engages his creative abilities on a daily basis.
It appears all things have fallen into perfect alignment and the "artistic" Stan finally has the time to create and pursue his aspiration to work with wood. Stan's natural perfectionism and his photographic eye for detail allow him to see the uniqueness of the grain in each individual block of wood that he touches. He takes what nature has provided and expounds on its beauty.
We hope you enjoy your purchase as much as Stan enjoyed making it.